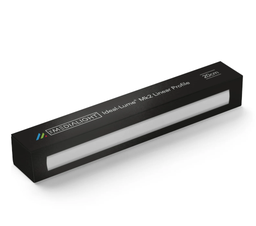 ---
MediaLight 20cm profile (Mk2 LED)
Availability: In stock
---
Building on the Ideal-Lume x MediaLight desk lamp collaboration, we introduce the newest offering from MediaLight and Ideal-Lume: The Ideal-Lume x MediaLight Linear Profile.
Experience unprecedented convenience with the MediaLight Mk2 and MediaLight Pro2 variations, each offering unmatched quality with CRI ratings of 98 and 99 respectively. Available in two convenient sizes, 20cm and 45cm, the Ideal-Lume Linear Profile fixtures present a compact alternative to traditional LED strips and fluorescent tubes, ensuring portability without compromising performance.
We love how it reminds us of the classic bias light tubes, but in sleeker and sturdier aluminum channel.
Take control of your lighting setup like never before. The Ideal-Lume Linear Profile ensures a consistent and comfortable viewing experience. With the included flicker-free dimmer, you have the power to adjust the lighting to your preference, dialing in the exact brightness you need.
When might you use it instead of LED strip bias lights?
When you want a less permanent installation


When you want a portable solution (i.e. a bias light for a laptop or portable editing rig)

When the display is on a stand (linear profiles work best with at least 6 inches between the wall and the back of the display)

When objects behind the display (for example, unruly cables) might cause a lot of distracting shadows (the built-in diffuser prevents scalloped shadows).

If you preferred installing fluorescent tubes over LED strips


The 20 cm strip is the perfect size for your MacBook or small monitor - up to 24". The 45 cm strip is great for an iMac or displays up to 40"*
*We've successfully used the 45cm on a 75" TV with an N5 gray wall. While reference levels were achieved, you will achieve a much higher relative brightness with an LED strip installed close to the edge of a large display.
We may offer additional sizes and voltages in the future based on demand.
The Ideal-Lume x MediaLight linear profile includes multiple mounting options right in the box
Velcro:
Effortlessly attach the bias light to any surface with ease.
Nano Tape (utilize with the included profile clips):
Thousands of microscopic suction cups securely fasten the bias light, ensuring it stays in place without any hassle (this tape is so strong, that we recommend only using it with the profile clips)
Profile mounting clips:
A sturdy and reliable mounting option, keeping your bias light firmly in position, but easily removable. Can be attached with the included nano tape, or a screw (screws not included).
Upgrade your display with the LED bias light that sets a new standard in quality and convenience.



Features



High-accuracy 6500K CCT (Correlated Color Temperature)
Color Rendering Index (CRI) ≥ 98 Ra (TLCI 99)
Color-stable dimming and instant warmup
USB 3.0 Powered
60/m LED density versus Mk2 LED strips, which are 30 per meter
Included flicker-free 30Khz dimmer (note: NOT remote controlled)
Included 50cm USB extension cord
Velcro, Nano Tape and polycarbonate mounting clips included
5 Year Limited Warranty
Recommended for all displays, including High Dynamic Range (HDR
FSI products come with a standard 2 year warranty parts and labor.
All quoted shipping rates include shipping insurance
See our terms and conditions for details on our return policy
Orders outside the EU are subject to local import duties and taxes