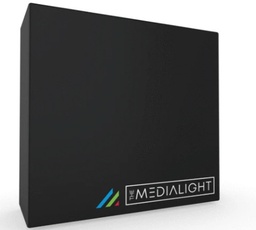 ---
MediaLight Mk2 24V 6500K CRI 98 - 5m strip.
Availability: In stock
---

This product requires AC 110v or 220v power. It is not designed to be powered via USB.
Most MediaLight products are built to run on USB 2.0 (up to 4 meters) and 3.0 power (above 4 meters). This limits the maximum brightness to about 300 lm for the entire length of the strip. Another limitation of 5v is strip length.  The MediaLight Mk2 Flex 6m is the longest single-strip, USB-powered bias light available. 
This is more than enough for bias lighting for all but the most extreme situations (massive displays, dark walls). 
Nevertheless, sometimes you need a brighter LED strip in longer lengths for various reasons (architectural installations, DIY projects, accent lighting, etc.)
For bias lights, you are almost always better off buying one of our 5v units than this unit. However, the 24v is available for situations where more power is needed. 
The MediaLight Mk2 24 Volt provides approximately 600 lumens per meter. 



Features





High-accuracy 6500K CCT (Correlated Color Temperature)
Color Rendering Index (CRI) ≥ 98 Ra
Color-stable dimming and instant warmup
Includes 24V Power Supply
Includes Dimmer and Remote control

ISF Certified
3 Year Limited Warranty
FSI products come with a standard 2 year warranty parts and labor.
All quoted shipping rates include shipping insurance
See our terms and conditions for details on our return policy
Orders outside the EU are subject to local import duties and taxes