The DM220 is a high-contrast 22" OLED monitor designed for use in color critical production and post-production applications. Industry leading fast mode processing, a durable all metal chassis, our most advanced feature set, and a compact and lightweight form-factor make the DM220 an exceptional reference grade monitoring solution for any environment.


The DM220 is now available for pre-order. Initial deliveries are scheduled to begin mid September, but please see availability below for up to date shipping estimates for any new orders being placed as DM220 demand may outpace production capacity for some time. Expected lead time estimates will be updated below in real-time as orders are received. You will be charged when you order and pre-order positions cannot be held without payment.

Features
Full HD Resolution
(1920 x 1080)
10-bit OLED (1.073 Billion Colors)

Low Power Consumption (50 watts) & Native 12V to 24V DC Support 

3Gbps SDI & Dual-Link Standard with Support of Advanced SMPTE 425M-AB Signal Formats

4:4:4 YCbCr, RGB, & XYZ Signal Support

Timecode Display (VITC1, VITC2, & LTC) 

Realtime LUT update Integration with Pomfort LiveGrade Pro Software

On-screen Indication of Source Frame Rate and Resolution (toggle on, off, or 5 second display) 

DSLR Zoom for Full Screen Scaling of DSLR Sources 

On-screen Alarms (IRE Threshold, RGB Alarms, Loss of Signal, Audio Mute, and More)

3rd Generation Real-time Focus Assist with Adjustable Color / Weight 

Wide Variety of Standard Markers and Safety Areas 

Custom Markers and User Adjustable Graticules

Pixel Zoom Features for Artifact-Free Zoom on Any Portion of HD Signal 

Active Video Boundary Marker 

CX Scale for Full Screen & Centered Scaling of Codex ARRIRAW Recorder Output 

Blue Only, Red Only, & Green Only Modes (As Color or Mono)

HD Anamorphic De-Squeeze (1.3x, 1.3x Mag, 2.0x, 2.0x Mag) 

SD Aspect Ratio Selection Including PAL SD FHA, Anamorphic, & 4:3

2 Input Picture & Picture Display with Adjustable Horizontal or Vertical Wipe Position 

Luminance Waveform with Adjustable Intensity

Vectorscope with Adjustable Intensity and Gain Expansion 

Hue Vector with Adjustable Reference Vector Line 

Color Code RGB and GBR Parade Scopes

RGB Overlay with Adjustable Intensity 

Histogram, Color Histogram, & RGB Histograms

YCbCr Scope with Adjustable Intensity 

YCbCr Overlay Scope with Adjustable Intensity 

Audio Phase Meter (Select Any Stereo Pair)

16 Channel Audio Level Meters (PPM1, PPM2, True Peak) 

16 Channel Audio Loudness Meter 

Audio Disembedding to Built In Speakers or Audio Output (Synced to Video Display)

Advanced 3D LUT Based Calibration (compatible with LightSpace, CalMAN, and Fuji) 

Selectable Color Temperature Presets 

Adjustable Gamma selection (1.0~2.8)

C-Log, S-Log, S-Log2, S-Log3, and BMD Film Log Monitor Modes 

Store up to 16 instantly selectable 3D DIT (Look) LUTs 

Advanced Pixel Level Measurement Feature

3D Signal Analysis Modes Including 3D Disparity and Checkerboard 

Advanced Real Time Waveform & Vectorscope

ScopeStream (stream WFM / Vector over Ethernet) 

Realtime LUT update Integration with Filmlight Prelight 

Realtime LUT update Integration with Firefly Fireplay / Fireday

Frame Capture to connected device via Ethernet 

Panel Specifications
Bit Depth (Color)
10 bit OLED (1.073 Billion Colors)
Max Luminance
400 nits fullscreen
Maximum Native Color Gamut
Max Native Color Gamut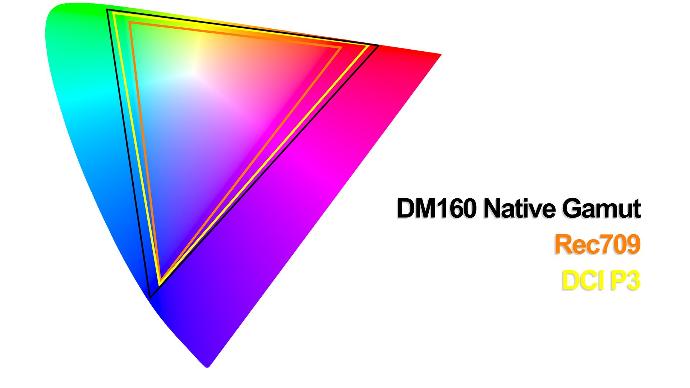 Outputs
2 x BNC
3Gbps/HD/SD-SDI - Clean Loop
2 x BNC
2nd Monitor Outputs (Can Mirror On Screen View, Apply LUT, etc.)
Supported SDI Formats
ITU-R BT.656 (PAL)
576i (50)
SMPTE-274M
1080i (60/59.94/50)
1080p (30/29.97/25/24/24PsF/23.98/23.98PsF)
SMPTE-296M
720p (60/59.94/50/30/29/25/24/23.98)
2K
2048x1080
(30p/30PsF/29.97p/29.97PsF/25p/25PsF/24p/24PsF/23.98p/
23.98PsF)
SMPTE-425M-AB
12 & 10 bit 4:2:2 1920x1080p (60/59.94/50)
- Level A & Level B supported
4:4:4 1280x720p (60/59.94/50/30/29.97/25/24/23.98)
- Level B supports 2 x SMPTE
12 & 10 bit 4:4:4 1920x1080i (60/59.94/50)
292M image format mapping
12 & 10 bit 4:4:4 1920x1080p (30/29.97/25/24/24PsF/23.98/23.98PsF)
372M image format mapping
12 & 10 bit 2k (2048x1080)
- RGB, YCbCr, & XYZ supported
(30p/30PsF/29.97p/29.97PsF/25p/25PsF/24p/24PsF/23.98p/
23.98PsF)
*XYZ mapped to Selected Color Gamut on Display Alignment Menu
Supported DVI Formats
DVI Digital
VGA (640x480), NTSC (720x480), SVGA (800x600), XGA (1024x768), SXGA (1280x1024), 1280x720, 1440x900, 1920x1080
Features
Removable Desktop Feet

Standard
External Mounting Points
100mm VESA
VESA to Light Stand Mount
Optional
Carrying Bag with Integrated Hood
Optional
Clear Protective Cover
Optional
Timecode Display (SD/HD-SDI)
LTC, VITC 1, VITC 2
Color Fidelity Engine
Yes, CFE3
Side by Side Monitoring
Yes
3D LUT Color Space Selection
SMPTE C/EBU/REC709/Rec2020 Emulation/DCI-P3/USER
Color Temperature Select
3200K, 5000K, 5600K, 6500K, 9300K
Gamma Selection
1.0 / 1.8 / 2.0 / 2.2 / 2.35 / 2.4 / 2.6 / 2.8
Power
Power Requirement
100~240 VAC / 12-24 VDC
DC Power Consumption (Appx.)
33W (normal mode) - 42W (outdoor mode)
Physical Characteristics
Weight (without desktop feet))
2.6 kg
Weight with Desktop Feet
2.9 kg
FSI monitors come with a standard 2 year warranty parts and labor.
All quoted shipping rates include shipping insurance
See our terms and conditions for details on our return policy
Orders outside the EU are subject to local import duties and taxes