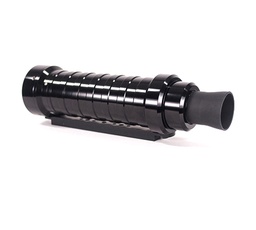 ---
Colorimetry Research CR-300-RH 2 nm spectral bandwidth spectroradiometer. Includes carrying case.
Availability: Special order item, usually ships 3-4 weeks after receipt of order
---
The Colorimetry Research CR-300-RH is a high resolution spectroradiometer featuring 2nm spectral bandwidth and 0.8nm/pixel resolution. This probe is highly accurate and display agnostic allowing it to be used with all current and future display technologies including LCD, OLED, and projection.

The CR-300-RH is compact and lightweight (just 2.5 lb / 1.134 kg) yet extremely durable thanks to its all metal machined aluminum and stainless steel construction. Every CR-300-RH is shipped with a NIST traceable calibration certificate verifying the instrument's accuracy.

The CR-300-RH's rubber hood and large measurement spot size allow the spectroradiometer to be placed conveniently right against the screen of virtually all flat panel displays.

The CR-300-RH comes with CRI's own CRI application allowing for basic measurement, logging, and manual calibration of displays. The CR-300-RH is also compatible with LightIllusion's LightSpace CMS, sold separately, allowing for in-depth 3D LUT based calibration of all current Flanders Scientific monitors.

Specifications
Detector
CMOS image sensor, 512 pixels
Spectral Range
380 - 780 nm
Spectral Accuracy
+- 0.3 nm
Spectral Resolution
0.8 nm / pixel
Luminance Range
0.05 fL to 45,000 fL
Luminance Repeatability
≤ 1 %
Chromaticity Accuracy
+- 0.0015 x,y
Chromaticity Repeatability
0.0005 x,y
Digital Resolution
16 bits
Custom Synchronization
10 - 10,000 Hz
Exposure Time Range
0.04 to 30 seconds
Power Requirements
5V, 120 mA, (600mW) via USB 2.0
FSI products come with a standard 2 year warranty parts and labor.
All quoted shipping rates include shipping insurance
See our terms and conditions for details on our return policy
Orders outside the EU are subject to local import duties and taxes
Browse for more products in the same category as this item: