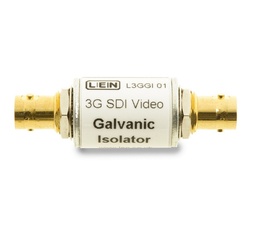 ---
Protect your monitor against ground loops and eliminate noise and hum from digital video signals.
Availability: In stock
---
The HVIT0x0B ASI, 3G-SDI, HD-SDI and SD-SDI SDI Isolator is a standalone unit It is used for both ground isolation and noise reduction in ASI, 3G-SDI, HD-SDI, and SD-SDI digital video signals.
Highlights:
Protect Equipment from Ground Voltages.

Eliminate Noise and Hum From Digital Video Signals.
Isolation better than 1kV.
Supports all 3G, HD, SD SDI Formats.
Compatible with ASI Video.
Passive Device.
High Performance and Wide Bandwidth Design.
Ultra-Compact and Lightweight.
Standalone Unit.
Description:
The HVIT0x0B ASI, 3G, HD, and SD SDI Isolator is a transformer based solution that provides reduction and elimination of hum and noise. This noise can interfere with digital video transmission. It is caused by the difference in ground potential, especially those above 20 volts, or induced currents in long cable runs.
This common mode noise results in the degradation of the bit timing of high speed digital signals. This leads to bit errors. These bit errors will reduce the quality of the video and data content within the transmission signal. Digital signals do not degrade gracefully as they often suffer from a cliff effect. This will cause the digital signal to be lost altogether.
However, the singular most common symptoms of hum in digital signals is intermittent horizontal black streaks. These streaks are often one line in thickness.
The SDI Isolator also provides crucial ground protection. This occurs when ground or earth potential differences exist between equipment. These potential differences often result in permanent damage to video equipment. This damage can be costly and take a crucial video signal off-air
FSI products come with a standard 2 year warranty parts and labor.
All quoted shipping rates include shipping insurance
See our terms and conditions for details on our return policy
Orders outside the EU are subject to local import duties and taxes
Browse for more products in the same category as this item: